Very rigid and lightweight. Equivalent stiffness to steel pushrods, like chrome moly, thanks to the design; 7075 alloy, 11.9mm waist, 4.8mm hole and tapered at both ends.
More silent engine operation; the pushrods follows the heat expansion when the engine gets warm.
The rods are lightweight; in full length (304.3mm), the rods weight 64gr/rod incl. steel tips.
Suitable for both std. as well as tuned engines.
Comes in set of 8, incl. instruction.
1006 Dual tapered 7075 aluminum pushrods 2995 SEK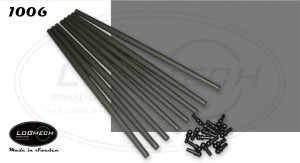 Questions regarding our products? Contact us, we also customize on request.